About
My research is focused on fast, autonomous locomotion in small scale robotic and biological systems. Movement emerges from complex interactions between the physical domain of materials science, mechanics, and environmental physics (fluid, or ground reaction forces), and the controls domain of sensors, computation, and feedback systems. As such, discovery of locomotion science principles requires multi-scale methods across biological experiment and robotics engineering. My research takes an integrative approach—through quantitative biology experiments, robotics, and physics study of animal-environment interaction—to discover principles for robust movement in complex environments with limited sensing and control.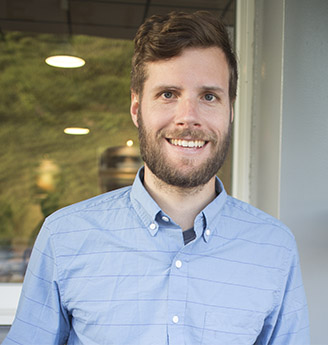 ---
Calendar
---
Education
Postdoctoral scholar at Harvard University (2013 - 2016)

School of Engineering & Applied Sciences
Department of Organismic and Evolutionary Biology
Advisers: Robert J. Wood and Stacey A. Combes

Ph.D. in Physics at Georgia Tech School of Physics (2008 - 2013)

Thesis: Collective dynamics of active and passive granular media
Minor: Mechanics of materials
Adviser: Daniel I. Goldman

B.S. in Physics at University of California, Santa Barbara (2001 - 2005)

Undergraduate Research Honors, 2004 & 2005
---
Teaching
Spring, 2018 – Bio-inspired mobile robotics
MAE150
Winter, 2018 – Computer aided analysis and design
Fall, 2017 – Senior Design
Spring 2017 - Introduction to Engineering Graphics and Design
Winter 2017 – Senior Design
---
Current research
Micro-robotics fabrication and control
Dynamic milliscale robots challenge current fabrication methods and thus new approaches are needed. We develop new design paradigms for micro-robots using laminate based fabrication methods, building up three-dimensional robots from layered laminates.
Efficiency and agility in microrobotics
Locomotion power efficiency of milli-scale robots can be improved by designing resonant actuation systems. However, resonance which favors actuation at a specific frequency, and agility which favors actuation across a wide range of frequencies are in conflict. We explore how mechanical design can resolve this conflict and enable agile and low-power microrobots.
In flight obstacle avoidance
Insect-scale flight occurs in complex aerial and environmental conditions. To understand how flight performance is influenced by perturbations or aerial environments we study the flight control strategies of bumblebees. We record and track bumblebee flight in challenging flight conditions to build a better understanding of the control and physics of flapping wing flight.
Legged locomotion at low mass
Running dynamics for small scale insects and robots are poorly understood. We explore legged movement at the small-scale by performing biomechanics experiments on high-speed running ants. We use micro-robotic models to test hypothesis of dynamic running in small scale systems.
---
Previous research
Swarm construction and locomotion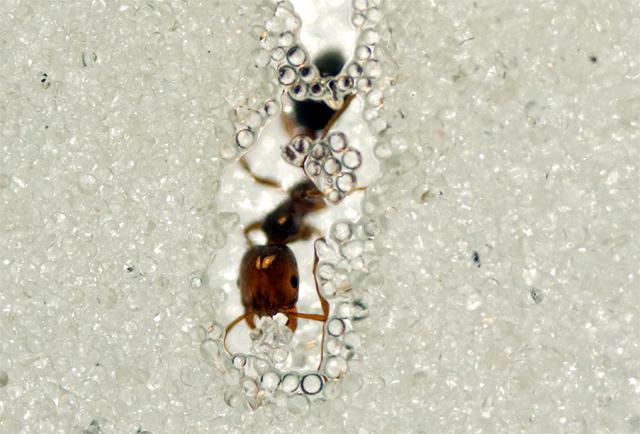 Many ant species construct subteranean nests which house and protect the colony. Nests often consists of elongated tunnels which interconnect larger chambers. The rapid construction of tunnels requires the ability to loosen and manipulate soil particles and then transport them through the tunnel system to the surface. My PhD research focused on the mechanics of these disparate processes-excavation and manipulation of wet granular media, biomechanics of tunnel locomotion, collective dynamics of tunnel traffic-to understand how nest structures emerge from this collective process.
Particle cohesion through geometry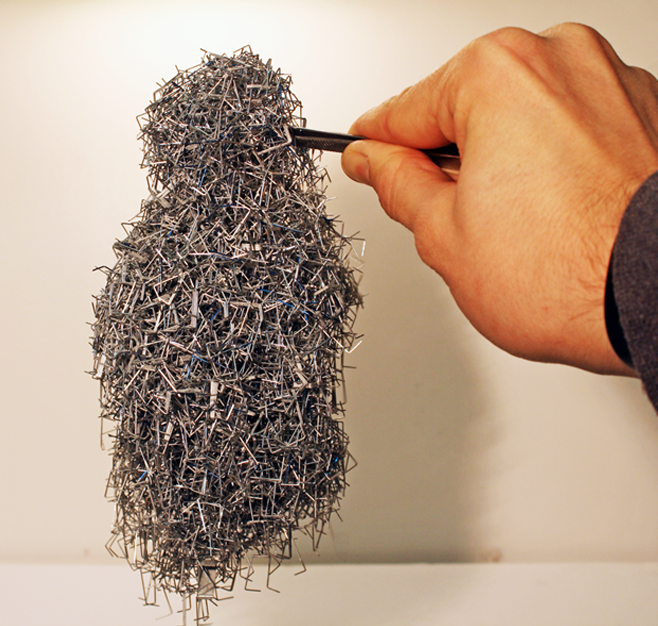 Inspired by the self-assemblages of fire ants-in which groups of hundreds to hundreds of thousands of ants are held together through the interlocking of limbs and mandibles-we studied a model system which displyed similar cohesion through particle entanglement. Concave u-particles (i.e. staples) provide a convenient particle shape in which a single parameter, the barb length, can be varied to control the particle concavity. In this study we found that there is an optimum particle shape in which particle ensembles are most resistant to perturbation. Through theory and computer simulation we determined that this optimum particle shape comes from two competing phenomena: as barb length increases particle entanglements and thus strength increases but increasing barb length also increases the average particle spacing thus reducing the number of entanglements. Thus the optimum shape allows particles to pack close together and also to sufficiently entangle.
Terra-dynamics of granular environments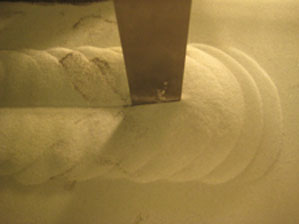 Granular media (GM) is a model substrate with which to study animal-ground interactions. My research in granular physics has focused on understanding the resistance forces experienced by objects translated within and on the surface of GM. Fundamental experiments like dragging a plate through sand allow us to understand how animals such as hatchling sea-turtles move across the beach without slipping. My experiments have focused on understanding how the initial packing of granular material, the volume fraction, influences the resitance forces and slope stability of GM. Volume fraction is a natural control parameter for granular materials because as we are all familiar with we can readily find sand in nature in loosely and closely packed.
Fibrillar adhesion in biology and robotics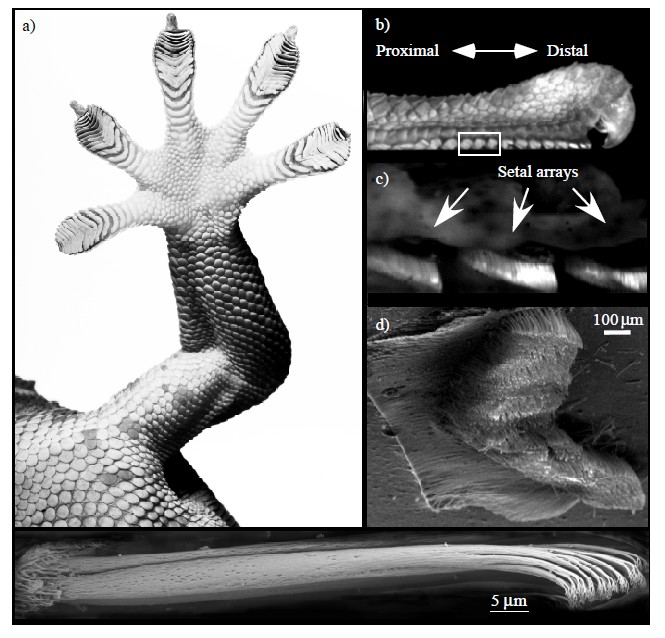 On the underside of a gecko's toe is one of natures most robust adhesives. Millions of microscopic hairs called setae line the adhesive pads of the gecko toe. Individual seta are approximately 1/10th the diameter of a human hair and each split at the end into approximately 1000 flat pads called spatula. When spatula are brought close enough to a surface they adhere through Van der Waals forces. Because of its hierarchical nature the gecko adhesive can achieve large contact areas with smooth or rough surfaces which allows it to adhere so well.
---
Publications
Peer reviewed journal papers
Experimental and computational studies of the aerodynamic performance of a flapping and passively rotating insect wing. Chen, Y., Gravish, N., Desbiens, A.L., Malka, R., and Wood, R.J., (2016) J. Fluid. Mech. [PDF]

Gravish, N. and Goldman, D.I. Entangled granular media. Book chapter. (2015). In press

Collective flow enhancement by flapping wings. Gravish, N., Peters, J., Wood, R.J., Combes, S.A., (2015) Phys. Rev. Lett. [PDF]

BEEtag: a low-cost, image-based tracking system for the study of animal behavior and locomotion. Crall,J.D., Gravish, N, Mountcastle, A.M., Combes, S.A. Vol. 10, 9. (2015). PLoS One.
[PDF] [Code on github]

Glass-like dynamics in congested ant traffic. Gravish, N., Gold, G., Zangwill, A.D., Goodisman, M.A.D, and Goldman, D.I., (2015) Soft Matter.
[PDF] [COVER ARTICLE]

Behavioral and mechanical determinants of collective subsurface nest excavation. Monaenkova, D., Gravish, N., Goodisman, M.A.D, and Goldman, D.I., (2015) J. Exp. Biol.
[PDF]

Sidewinding with minimal slip: snake and robot ascent of sandy slopes. Marvi, H., Gong, C., Gravish, N., Hatton, R.L., Mendelson III., J.R., Choset, H., Hu, D.L., and Goldman, D.I. (2014) Science.
[PDF]

Effect of volume fraction on granular avalanche dynamics. Gravish, N., and Goldman, D.I., (2014) Phys. Rev. E.
[PDF] (Selected as an editor's suggestion: [link])

Force and flow at the onset of drag in plowed granular media. Gravish, N., Umbanhowar, P.B., and Goldman, D.I., (2014) Phys. Rev. E
[PDF]

Climbing, falling and jamming during ant locomotion in confined environments. Gravish, N., Monaenkova, D., Goodisman, M.A.D., and Goldman, D.I., (2013) PNAS
[PDF], [PDF+SuppMatt], Movie 1, Movie 2, Movie 3, Movie 4, Movie 5, X-Ray CT [COVER ARTICLE]

Effects of worker size on the dynamics of fire ant tunnel construction. Gravish, N., Garcia, M., Mazouchova, N., Umbanhowar, P.B., Goodisman, M.A.D., and Goldman, D.I., (2012) J. R. Soc. Interface.
[PDF] [Movie 1, Movie 2, Movie 3]

Entangled granular media. Gravish, N., Franklin, S.V., Hu, D.L., and Goldman, D.I., (2012) Phys. Rev. Lett. (Editors suggestion)
[PDF][COVER ARTICLE] links: (Physics Synopsis on the APS website. Physics world and Science press coverage. Physics Today quick study here).

Drag induced lift in granular media. Ding, Y., Gravish, N., and Goldman, D.I. (2011) Phys. Rev. Lett.
[PDF].
Press:(Physics Buzz, Highlighted as a synopsis on the APS physics website here).

Force and flow transition in plowed granular media. Gravish, N., Umbanhowar, P.B., and Goldman, D.I. (2010) Phys. Rev. Lett.
[PDF] [COVER ARTICLE] links: (Supplementary videos) (Physics Today)

Utilization of granular solidification during terrestrial locomotion of hatchling sea turtles. Mazouchova, N.M., Gravish, N., and Goldman, D.I. (2010) Bio. Lett.
[PDF]
links: (Special issue webpage)

Rate-dependent frictional adhesion in natural and synthetic gecko setae. Gravish, N., Wilkinson, M., Sponberg, S., Parness, A., Esparza, N., Soto, D., Yamaguchi, T., Broide, M., Cutkosky, M., Creton, C., and Autumn, K. (2010) J. R. Soc. Interface
[PDF]
links: (COVER ARTICLE)

A microfabricated wedge-shaped adhesive array displaying gecko-like dynamic adhesion, directionality and long lifetime. Parness, A., Soto, D., Esparza, N., Gravish, N., Wilkinson, M., Autumn, K., Cutkosky, M.. (2009) J. R. Soc. Int.
[PDF]

The Crowding Model as a Tool to Understand and Fabricate Gecko-Inspired Dry Adhesives. Pesika, N., Gravish, N., Wilkinson, M., Zhao, B., Zeng, H., Tian, Y., Israelachvilli, J., and Autumn, K. (2009) Journal of Adhesion
[PDF]

Microscopic Modeling of the Dynamics of Frictional Adhesion in the Gecko Attachment System. Yamaguchi, T., Gravish, N., Autumn, K., and Creton, C. (2009) J. Phys. Chem. B
[PDF]

Gecko adhesion: evolutionary nanotechnology. Autumn K., and Gravish, N. (2008) Phil. Trans. Royal Society A
[PDF]

Frictional and elastic energy in gecko adhesive detachment. Gravish, N., Wilkinson, M., and Autumn, K. (2008) J. R. Soc. Interface
[PDF]

High friction from a stiff polymer using microfiber arrays. Majidi,C., Groff, R.E., Maeno, T.,Schubert, B., Baek, S., Bush, B., Maboudian, R., Gravish, N.,Wilkinson, M., Autumn, K. & Fearing, R.S. (2006) Phys. Rev. Lett.
[PDF]
Peer reviewed conference proceedings
Last updated: 07/15/2016